The Escort Radar detector is a new advancement in automotive technology. Not only is it keeping you safe from speeding tickets while driving, but it also provides a host of other features that make it an excellent choice for drivers.
But what makes the Escort radar detector different from others on the market? In this article, we will explore the top features that make the Escort radar detector stand out. In addition, we will answer other questions about the legalities and costs associated with such a device.
Everything You Need To Know About Escort Radar Detector
With over 40 years of experience in the radar detection industry, Escort radar detectors offer the best range, accuracy, and alerting capabilities to make your drive safer.
Radar detectors work by picking up wave signals from police radar guns. Escort has found a way to improve alert accuracy by using Digital Signal Processing (DSP) technology. This technology allows for quicker and more accurate identification of the radar signal being emitted by police officers, giving drivers an extra few moments to slow down before they are caught speeding.
The Escort radar detector also features 360-degree, long-range protection for an added layer of safety. It uses multiple antennae to detect radar signals from all directions, allowing drivers to have the utmost confidence when driving.
Another feature that makes the Escort Radar detector unique is its AutoSensitivity mode. This mode automatically adjusts the sensitivity level so that it can alert you of police radar signals without being overly sensitive. This helps to eliminate false alerts from everyday sources, such as automatic doors or other vehicles with similar technology.
The integrated Bluetooth technology allows for seamless connection to the Escort Live mobile app, providing real-time updates on speed traps, traffic cameras, and red light cameras from other drivers in your area who are also using the app. You can also mark locations where you have been pulled over or received tickets to avoid them in the future.
The Escort Radar detector also features built-in voice alerts, allowing you to keep your eyes focused on the road while still being made aware of upcoming threats ahead. With these features, you'll have more time to react and be sure you're driving safely.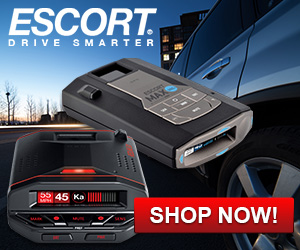 Escort Radar Detector Products
While they have other products, let's take a look at their radar detector lineup and features:
Escort X80 | $299
The Escort X80 is a great budget buy for those who are looking for the basics. It provides early alerts against radar guns and offers long-range protection. With its Bluetooth technology, you can connect to the Escort Live mobile app for real-time updates on speed traps and traffic cameras.
For the features, this is a cheap Escort Radar detector. And its sleek design makes it a great choice for those who are looking for something discreet.
With this link, you will get FREE Ground shipping on orders $99 and up when you buy direct from Escort Radar.

ESCORT X80 Radar/Laser Detector
Escort Max 3 | $399
Integrated with Waze and other navigation apps, the Escort Max 3 is perfect for those who are always on the go. With a community of over one million drivers, you will be alerted of real-time threats and updates on speed cameras, red light cameras, and other traffic violations.
The Escort Max 3 also has advanced filtering to mitigate false alerts. False alerts are automatically suppressed so that you can drive more safely. As you drive, the radar detector learns the roadways and remembers where false alerts are common so that you don't have to worry about them.
For an extra $100, you get a lot of extra features with the Escort Max 3. It's definitely worth the investment for those who want to be sure they are driving safely and avoiding any potential traffic violations.

ESCORT MAX 3
Escort Max 360 | $499
With a faster detection response time and 360-degree, long-range protection, the Escort Max 360 is a great choice for those looking for advanced features. It also includes GPS intelligence and AutoSensitivity mode, as well as voice alerts that help keep your eyes on the road.
The Escort Max 360 also has an intuitive OLED display with easy-to-understand icons to let you know when and where to be alert. This is a great feature for those who are always on the go and don't have time to read detailed warnings.
If your main priority is safety, then the Escort Max 360 is definitely worth it. With its advanced features, you can be sure you're driving safely and avoiding any potential traffic violations.

ESCORT MAX 360 – $499.95
from: Escort Radar
ESCORT MAX 360c MKII | $699
If you want the newest technology of the Escort Max 360 line, then the Escort Max 360c MKII is a great choice. It provides the same features as the Max 360 but adds on even more advanced technology.
It's faster, quieter, and provides more protection than its predecessor. It has improved false alert filtering, 360-degree directional arrows, and a WiFi connection to keep the detector up to date with the latest threats.
The Escort Max 360c MKII also has dual-band WIFI to get automatic software updates and access to the patented ESCORT Live app. With these features, you can be sure that you are protected against any new threats and have up-to-date information about potential traffic violations.

MAX 360c MKII – $699.95
from: Escort Radar
ESCORT MAXcam 360c | $779.95
Reveal everything on the road with the Escort MAXcam 360c. Not only is it an advanced technology radar detector, but it also is a dash cam. This dual-purpose device has an advanced 1440P HD camera that records your surroundings, so you can have video evidence in case of an incident.
The dashcam gives instant access to your videos, so you'll never have to worry about downloading any files or connecting any cords. You can also get your videos automatically backed up with the ESCORT Cloud Connect service.
You can also transfer, edit, and share dashcam footage on the go with the ESCORT Cloud App. With this feature, you can be sure that no matter what happens on the road, you'll have video evidence to back up your story.
The dash cam also has accident reports, parking mode, and mayday alerts, so you can be sure that you are always protected.
Last but not least, the Escort MAXcam 360c comes with a 16GB micro SD card to store all your videos. This is one of the best Escort Radar detectors money can buy.

ESCORT MAXcam 360c – $779.95
from: Escort Radar
Redline 360c | $799
For those who drive a lot and want to know everything that is going on around them, it doesn't get better than the Escort Redline 360c. With twice the range of other detectors, this is the perfect device for those who want to ensure they are avoiding any potential traffic violations.
While it doesn't have an integrated dashcam, this is the best radar detector you can get on the market. It includes everything you need but with better technology to get you the most accurate readings.
This is our top choice and best Escort radar detector, but if you want a dashcam as well, then the Escort MAXcam 360c should be your go-to choice.
More On Escort Radar Detector
Before we get into must-know information about radar detector laws, let's discuss other information you should know about Escort radar detectors.
Trade-In Program
Never miss out on the latest radar detection technology with the Escort Radar trade-in program. You can sell your used Escort Radar detector back to them and get credit for a new one.
The trade-in credit will be based on the age, condition, and model of the detector that you are trading in. This is a great way to upgrade your detector without buying it outright.
You can learn more about the program and get started by visiting the Escort Radar website.
Limited Ticket Guarantee
Companies that are confident in their products back them up with guarantees. Escort Radar does just that with its limited ticket guarantee.
If you get a speeding ticket with a MAXcam 360c, Redline 360c, MAX 360c, MAX 360, MAX 3, or Escort iXc, Radar Escort will reimburse you for the ticket up to $250 within 1-year of your purchase. This guarantee only applies to speeding tickets, not any other type of violation.
To learn more about the terms and conditions of the Limited Ticket Guarantee, visit the Escort Radar website.
Price Match Guarantee
Escort Radar will match that price if you find another portable Escort radar detector with the same features from an authorized dealer for a lower price. This is a great way to get the best deal without compromising on quality.
To take advantage of this price match guarantee, simply contact Escort Radar customer service for more information.
In Which US States Are Radar Detectors Legal?
There is a lot of inaccurate information about radar detectors and their legality. To clear up any confusion, here is a quick breakdown of where radar detectors are legal and illegal in the United States.
Radar detectors are legal in all states except Virginia and Washington DC. However, they are not allowed to be used on commercial vehicles in any state.
So, no matter what BS a police officer tells you, using a radar detector in your vehicle is legal as long as it's not in Virginia or Washington, DC. We always suggest knowing your laws and especially knowing your rights.
Be sure to record any interactions with the police, and always be respectful. Knowing your rights and being polite can go a long way in situations like this.
What Does KA Mean On A Radar Detector?
If your Escort Radar detector or other radar detector starts beeping and you see "KA" on display, it means that your detector is picking up a Ka-band frequency. Police officers primarily use the Ka-band frequency to detect speeding motorists.
In other words, slow the heck down if you see "KA" on your radar detector. We always recommend reading the owner's manual on your radar detector to become familiar with the various alerts and settings.
By becoming more educated on your radar detector, you can better understand what it's telling you about your driving environment so that you can stay safe and avoid any costly tickets.
Final Thoughts On Escort Radar Detector
Overall, whether you choose an Escort Radar detector or another brand, you should always do your research and know what you're buying. Make sure the detector has all of the features that you need so that you can be proactive about protecting yourself from potential speeding tickets.
There are many crappy radar detectors on the market, so it's important to read reviews and do your due diligence before purchasing one. While they are a higher price, Escort Radar detectors, in our opinion, offer the best performance and protection.
Before you go, here are other articles you might like:
Why Is There A Buzzing Sound When Turning Key In Ignition
Will A Catalytic Converter Quiet Exhaust?
10 Automotive Safety Tools You Should Always Carry in Your Car